The value of former U.S. President Donald Trump's digital trading cards has dipped to a record low.
According to tracking data by OpenSea, a non-fungible token (NFT) marketplace, just before 3 a.m. ET on Saturday morning, the floor price of the digital trading cards sunk briefly to 0.00057 Ethereum (ETH), a benchmark cryptocurrency, which as of 4:15 a.m. ET Tuesday would make one worth around $1.04.
Before dropping close to zero, the Trump NFTs had been trading around 0.12 ETH ($218.37). Later on Saturday, they returned to 0.12 ETH, and as of 4:45 a.m. ET on Tuesday their price is hovering around the 0.1147 ETH mark ($208.64).
When the former president first announced the release of the first batch of the digital collectibles, the 2024 presidential candidate was mocked for hyping up the cards as a "major announcement."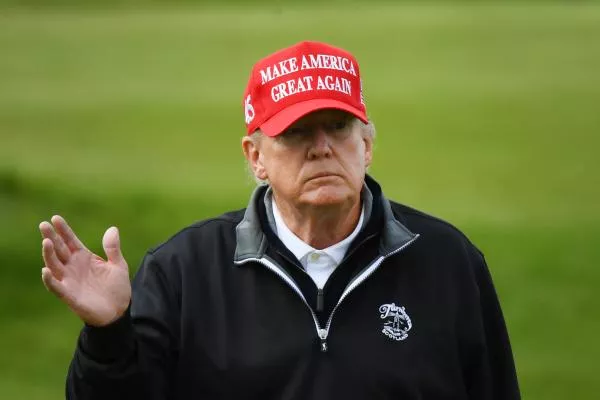 Former U.S. President Donald Trump waves as he plays golf at the Trump Turnberry Golf Courses, on the west coast of Scotland, on May 2, 2023. Trump's digital trading cards dipped to a record low in value on Saturday.ANDY BUCHANAN/AFP via Getty Images
He has since been ridiculed for the art used on the cards, which show his likeness in a variety of different scenes and poses. These include as a king on a playing card, serving burgers and hotdogs at a barbecue, and playing an electric guitar while riding a motorbike.
The NFTs had been facing a gradual downward trend in value, with a 90-day high on February 16 of 0.694 ETH ($1,262.91). The digital trading cards saw a prior dip in March, a few days before Trump's widely anticipated indictmentby a grand jury in Manhattan, after which the price normalized again.
Trump released the second series of the NFTs on April 18, writing on his Truth social media platform that the decision to do so was "due to the great success" of the first round, whichcame out in December 2022.
This sawthe price dropas the market was flooded with newly minted merchandise, normalizing again at around 0.13 ETH ($236.57) by April 19. Trump's trading card website says the latest series had sold out after offering the fresh batch for $99 a piece.
It is unclear why the latest sudden dip occurred. However, data from the past 7 days indicates more offers for the NFT are being made at a lower value than listings at a higher value.
The Trump digital trading cards website stresses they "are intended as collectible items for individual enjoyment only, not for investment vehicles."
NFTs represent a provably unique bit of code, which means the holder knows that it can't be replicated and therefore stolen. To create some tangibility, NFTs are represented with unique artworks thatare aimed at incentivizing buyerswho wish to own that unique artwork.
Despite being mocked for the venture, Trump spoke on the conservative One America News Network in December to defend the decision. He stated the digital trading card collection was about "art" and not money.
"You know, it's sort of comic book art when you think of it, but they showed me the art and I said: 'Gee, I always wanted to have a 30-inch waist,'" the former president said at the time.
"I'm looking at this stuff and I'm saying 'Wow, that's sort of cute, that might sell, that might sell.' They thought it would sell in six months, it sold in six hours."